A theme for my travels this year: Gardens intentionally created as places for renewal. Such a meditation spot appeared by chance, appropriately enough, on an impromptu trip to visit my cousin in California. One morning as I walked a trail along the Pacific in Half Moon Bay, I came upon a stone labyrinth on a high dusty place overlooking the sea. How could I not walk it, what with hearing the surf and smelling the mingled scent of sea, and grasses… and somewhere in hiding, some wild roses? The cool morning fog is blowing off, the sea birds cry…  and you walk the labyrinth.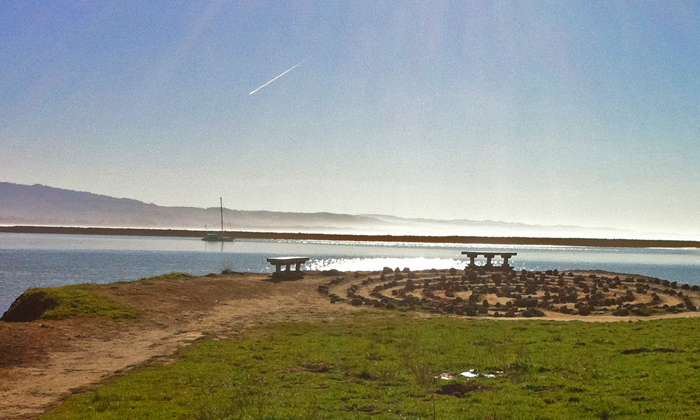 Greek mythology tells us
The labyrinth, Greek mythology tells us, was invented by Daedalas to confuse and trap the Minotaur. These days when there's hardly a Minotaur left to trap, taking a walk in a labyrinth is a way to contemplate or seek enlightenment.  It can be viewed as a spiritual journey to the center of your self, a way to get closer to the kernel of a problem, or to shed accumulated tension.
Labyrinths at every turn
There was another labyrinth I chanced upon in May, in the middle of a woods on the grounds of a Massachusetts conference center.  I love that people are creating these labyrinths that I keep tripping over by chance. In the Rowe, Massachusetts labyrinth the pilgrim was invited to take, or leave, a token when you reached the center.  (When I was there it contained a shell, a pack of gum and a little red horse.)
In New York City labyrinths seem like an especially good idea because they maximize walking space in a small area. Before the latest renewal of Twelfth Avenue started several years ago, I found one painted on an abandoned asphalt lot. The thought and intention that went into creating this, as well as the elbow grease, was not lost on me. I loved it. Anyone who's fallen under the spell of a garden has experienced the transcendent power of its beauty. But there's something different about a garden that was created specifically for that purpose.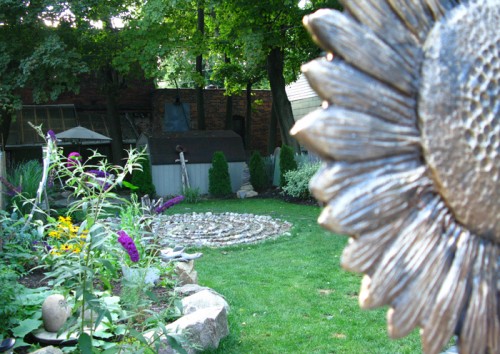 My ideal labyrinth would be an herb garden.  I'm putting this idea out there to all of you people dreaming of next year's garden, in the hope this inspires someone.
Susan Szeliga
Susan lives in Brooklyn where she writes, paints and continues to try to play fiddle. After a long career at Newsweek Magazine, her current day job is working as reference librarian at Sports Illustrated.