The Noguchi Sculpture Garden invites contemplation. Adjoining the Isamu Noguchi Museum located in Queens New York, the garden contains the traditional elements of a Japanese garden: water, a bridge, green elements (bamboo, pine), and rock, of course, including Noguchi's sculptures. It got me thinking, what is it about a spot that stills the mind without being boring or soporific? What makes the experience restorative?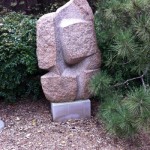 Moving energy in an industrial area of Queens
The garden space , as you can see from the picture just below has undergone a monumental transformation, from industrial lot to a national treasure. The area is not especially large, but the moving energy makes it a matchless meditation garden. Located in an industrial area of Queens, in Long Island City on the shores of the East River across from Manhattan. Noguchi situated the garden in the back lot of the building he'd been using as his studio, which now houses the museum.
When I told the docent I was interested in what it looked like before it was a garden, she kindly dug up an old photo that showed a weed and refuse strewn lot.  It's almost impossible to believe it's the same space. Everything now is perfectly balanced. Yet it isn't static or fussy. I sat on a stone bench for a while trying to understand why it was so perfect.
The area is not especially large, but the moving energy makes it a matchless meditation garden.
The curve of a branch
There was the cool shade of trees on a sunny day. And it definitely was a comfort to have a bench that invited rest, but the way it was designed was really the key. The way the elements worked together and moved—a serpentine path, real sound of water, the manner in which plantings related to one another, the colors, surface textures, and the stones themselves, which according to the docent, represented the flow of water.  There was also the real sound of water; it came from a sculptured hunk of rock, the top of which was scooped out to form a dark bowl of moving water that reflected branches, leaves and sky.
[portfolio_slideshow id=4262]
A first meditation garden
When I was a little girl I used to wake up early and go out into the backyard garden before anyone else was up.  Maybe because I was raised with a lot of religion, I'd spend the time making tiny alters of stones, sticks, clover and Sweet William.  That was my first meditation garden.  If I'm ever lucky enough to attempt to make a meditation garden again, I'd definitely like to refer back to the flow of that Noguchi garden, though I'm doubtful I could create such an architecturally perfect design.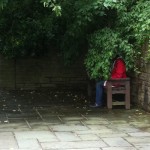 Every garden is it's own expression, and because the seasons are always changing, it moves along with us.  I have an image of bench in a secluded corner of a small New York pocket park, where a woman was nestled in privacy with branches of trees curving over her.  It made me think that maybe a personal meditation garden can be carved out of any sweet space.  It only needs to be a respite.
Susan Szeliga
Susan lives in Brooklyn where she writes, paints and continues to try to play fiddle. After a long career at Newsweek Magazine, her current day job is working as reference librarian at Sports Illustrated.