Before running off to the mall to load up on foriegn-made gifts or jumping on your computer to order from a large on-line retailer, check out your local retailer! Giant Asian factories have provided Americans with monstrous piles of cheaply-produced goods — merchandise that has been produced at the expense of American labor — and sold in monstrous stores like Walmart that continue to devour local stores and shopkeepers.
Start a new tradition, buy local.
Give gifts that will help your fellow Americans!
Help create a movement of caring about each other
Buy locally-grown produce and foods at farm stands instead of supermarkets, where the food travels from overseas.
While shopping, patronize local restaurants instead of corporate chains.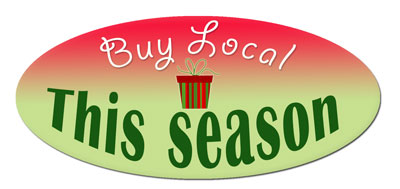 BUY LOCAL LIST for Pinellas County, Florida
ART:
Safety Harbor Music and Art Center- SHAMc Buy $5 raffle tickets for this amazing hand-built vase by Ira Burhans of Clay and Paper Gallery in Dunedin  Call Kiaralinda and Todd at 727-725-4018 to purchase tickets. http://www.facebook.com/SafetyHarborArtAndMusicCenter
- Holly Bird- Printmaker, artist and illustrator. Copper plate etchings, linoleum block prints and mezzotints. Boats, birds and other beautiful things. My booth will be at the annual Harbor Art show, Downtown Palm Harbor, Dec. 3rd & 4th!  Phone- 727-781-6888 hbird@tampabay.rr.com • http://www.studioibis.com • http://hollybirdaerie.blogspot.com/
- Patti Bacun- Glass Bead Artist. Wearable art. Choice abound from one hand-made bead or a set or a piece of jewelry. No website, since everything is one-of-a-kind, but email me and we'll "talk". Phone: 727/415-6790 • smallcraft@ij.net
- Clay and Paper Gallery- Local art gallery owned by Barbara Melby-Burhans and Ira Burhans. Representing over 100 local and national artist. All handmade in the USA. Located in downtown Dunedin along the Pinellas Trail at 362 Main Street. Sponsoring 'Tour de Clay', Dec. 10 & 11. Twenty potters at six Tampa Bay pottery studios.www.tampatourdeclay.com • http://www.claypaper.com
- Joyce Curvin- artist. Whimsical, Funky and Earth-friendly art. "Art Official Pets". Quirky characters constructed from 95% recycled materials and each has a personality all it's own. curvin@TampaBay.rr.com • http://www.joycecurvin.net
- Shannon O'Leary-Beck- professional muralist & decorative painter. Gift certificates available for Color Consultations $65/ hr. www.wedigdoinit.com/shannon • http://facebook.com/shannon.olearybeck
FOOD:
- Personal Chef Eileen Morris, APPCA Gift certificates for cooking classes from around the world. Scheduled group classes are only $40. Private class up to 4, $155. Mini holiday meals $75.00 for 2 meals for 2 people(4 meals total) customized and delivered. PO Box 82/ Crystal Beach, FL 34681-0082   Phone: 727-787-3663 chefejm@tampabay.rr.com • www.icustomcuisine.com
- Amy's Fresh Delivery- local produce delivered to your door. Homemade breads, mixed nuts in mason jars, christmas white peppermint bark, herbs and more! Prcie range $20-$40 amy@amysfresh.com • www.amysfresh.com
- Kelly's Restaurant Three great choices to eat, drink, and dance; Kelly's Restaurant, The Chic-A-Boom Room, and Blur Nightclub. 319 Main St., Dunedin FL 34698  727-736-5284 • http://kellyschicaboom.com
- Fireside Pizza Cafe- casual restaurant with a custom built wood-fired oven for that authentic Mediterranean experience. Vegetarian and a gluten-free pizza! 1104 Nebraska Ave. Palm Harbor FL 34683  727-216-3474 • http://www.facebook.com/pages/Fireside-Pizza-Cafe-Downtown-Palm-Harbor/183844065004068
- Ohana Cafe- Healthy Fare with an Island Flair! Taste the Aloha!!! Most of our produce is locally grown or organic! Our proteins are antibiotic & hormone free or organic! We offer omnivore, vegetarian, vegan, & gluten free options! Good Times, Great Grinds! 306 Orange St. N Palm Harbor FL 34683 727-787-1234 http://www.theohanacafe.com/
- Casa Tina Mexican Restaurant- Gourmet Mexican and Vegetarian Cuisine. Casa Tina's offers fresh, healthy, authentic Mexican food in the heart of downtown Dunedin. Pan y Vino, the wine and tapas bar next door, provides delicious tapas and a modest but wide-ranging wine selection in a calm, romantic atmosphere. 365 Main Street  Dunedin, FL 34698 727-734-9226 http://www.casatinas.com
GARDEN:
- Siobhan Nehin- Exterior designer. Master Landscape plans, garden refreshes, murals and patio transformations. Gift certificates for Landscape and Patio Consultations booked for January; One hour $69/ two hrs. $125. ($10 OFF the normal rate of $135 for two hrs). Phone- 727-452-5107 email: snehin@mac. com
- Landmark Nursery- Tampa Bay's largest retail garden center. Vast selection of special pots. Unique plants, trees and palms. Gifts for the patio including recycled rugs. Phone- 727- 938-2971 • 853 East Lake Rd. S. Tarpon Springs, FL 34688 • website: http://landmarknursery.com
MUSIC:
- Musician Gary Sintes- local musician for hire. Parties and local establishments. "Acoustic Rust" appearing to share the tunes from the days when melody mattered… The Beatles, Neil Young, JJ Cale, The Monkees, Bob Dylan, etc. • wsurfer@ij.net
- Musician Peter Grace-  Parties and local establishments.peugene2004@yahoo.com
HOME IMPROVEMENT:
- Lois Snyder- Fine Art Wood Works The highest quality cabinetry and furniture– made to last a lifetime, and made BY HAND with USA non-toxic materials right here in Tarpon Springs!  http://loissnyder.me/
- Nick Beck- Home improvement services specializing in cabinet installation. 727-420-5028
SERVICES:
- Get Mailed- a contract US Post Office/greeting card/gift shop owned by Galen MaCarty. 12487 Seminole Blvd., Largo FL  Phone- 727-584-7752
———————————————-
Add YOUR suggestions to the List!
If you have a local business, service or are a creative person, add your name. Also, help others in your community who could benefit from additional patronage. By adding to the comment area at the end of this post you can help promote yourself and others in the community. This list is for Pinellas County.
List the name, phone number and a short description. List gift certificates options and special offers.
If you live in a different area, start a list for your area.
Promote buying local on your personal social networking sites.
Please link to this post on your networking sites.
[portfolio_slideshow id=4327]