Just when my friends in Florida are putting in their fall gardens, here in Springbrook, Wisconsin, it's over! We are on almost exact opposite schedules. Our first frost was September 16th, when we had killing frost temps of 28º at night, daytime highs on the 60s. Everything in the garden is black and very sad. Here in Zone 3, the growing season is short – 90 days tops.
I don't dig it!
So this year I decided to try growing veggies the "digless" way – in containers, small raised beds, plastic bags – you get the idea. In my yard I used mostly containers – large barrels cut in half glommed from my neighboring farmer, 10 gallon paint buckets with holes drilled in the bottom, long window box style planters. I used moisture control bagged soil for containers to try to control the watering that gets to be a real pain in hot weather.
Click on First ARROW to See Slide Show
[portfolio_slideshow id=4157]
Growing unique varieties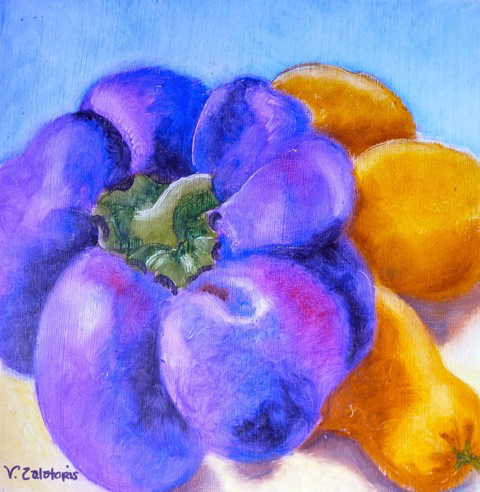 I grew only veggies that I could not get from my farmers market or local grocery store. Why on earth grow the same ol' when there are such fascinating varieties available. Baker Creek Heirloom Seed has an OMG catalog with a mouthwatering selection of veggies from all around the world. So, some of my veggies were from seed; others were from plants started by my local Master Garden group. The MGV have a huge plant sale May 21, mostly of heirloom tomatoes and field grown perennials. 500 tomato plants sell out in 30 minutes.
So here's the result!
I grew four tomato plants in paint buckets – all heirloom.
Czech Stupice and Czech Bush are small tomatoes that are ready in 60 days – great for zone 3. Very tasty and prolific.
Striped Roman was almost too pretty to eat – very tasty & seedless.
Russian Purple was somewhat of a mystery tomato – can't find it in a catalog – there were only a few plants at the sale. A rosy red sandwich type tomato with a wonderful sweet taste.
Window box planters
In the long window box planters, I tried Parisian Carrots, Golden Beets, and some fancy lettuce mixes. The carrots and beets got nibbled off by a rabbit. I fenced them in with chicken wire and the plants recovered. However, root crops seem to like drier natural soil better than my bag soil. And you must really pay attention to the seed packets instructions on thinning the seedlings. Much as we all hate to kill healthy plants – if you don't, your  carrots, beets, radishes etc will never mature. I learned this the hard way, having nothing but miniatures after weeks of growing.
What to do now that the gardening season is over?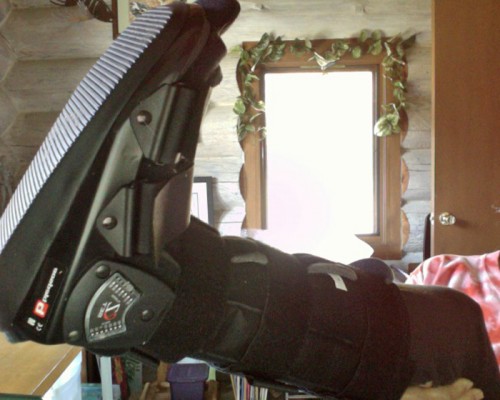 Sit on the couch with a glass of wine? HAH!  First I had to help with the cutting, splitting and stacking of 52,000 lbs of wood for our winter heat. (This is no exaggeration – look up the weight of 10 loggers cords of oak wood) after which I rolled my ankle and broke the bottom of my ankle bone. I am now wearing – a soft black cast the size of a ski boot. But what the hey – I can still help rake leaves off our 1 acre property. I will certainly be healed in time to help with the snow blowing and shoveling. I am always amazed at the number of people who go South for winter. They don't know the fun they are missing!
PS- I almost broke the other ankle dragging my kayak down to the lake , so I could paddle around and see the fall colors. Maybe I should sit down with that glass of wine – and make it a big one.
– Guest Contributor Vicky Zalatoris
Illustration and photos by Vicky. See her artwork at http://www.phluffwerks.com