For our latest community enhancement project, the Garden Fairies are lending our skills to the SHAMc (Safety Harbor Art and Music Center). It's lucky the Fairies are an outdoor-loving group because we have have done two SHAMc fundraisers in the past month, braving rain, summer heat and hostile humidity to help raise funds for the center.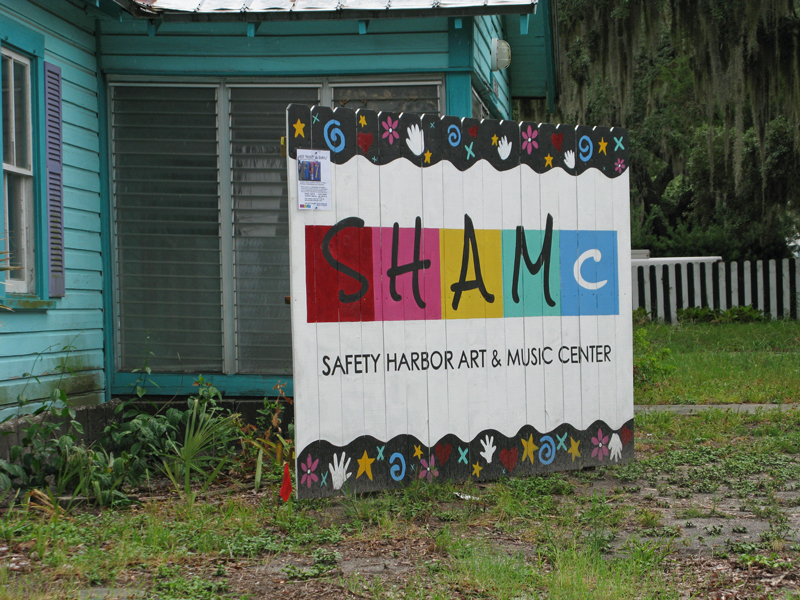 SHAMc will be created out of the core of an old house, built in the 1920s. The house is owned by Garden Fairy Kiaralinda and Garden Wizard Todd, creative visionaries on a mission to bring a new art and music center to Tampa Bay.
Picket-Paint-a-thon Party
Garden Fairy Heather turned SHAMc's first community art project, held June 26th, into a fun and well-organized event. Before the event, with her wiener dog Tink in tow, she purchased over 150 wooden fence planks. Heather, Jan and Steve primed the planks before the picket-paint-a-thon party. A number of Garden Fairies, a handful of professional artists and people just willing to pick up a paint brush, participated in Sunday's "Picket the SHAMc" event. Artist Raphaella Vaisseau and a friend even drove all the way from Venice (Florida that is).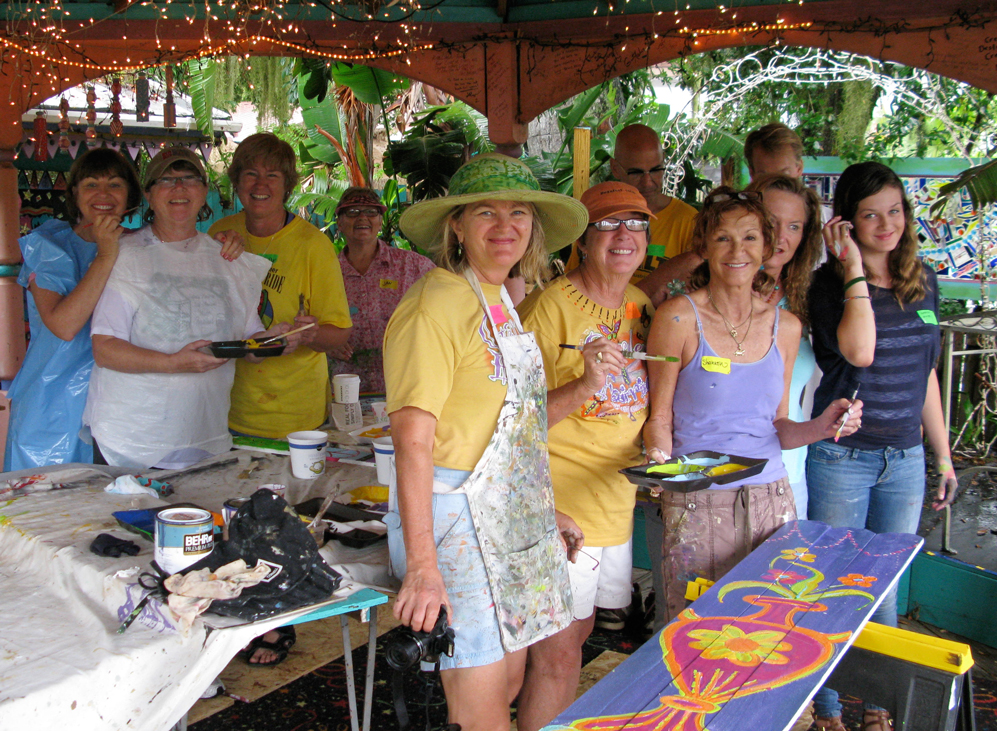 "I'm not an artist!"
Some participants claimed "I'm not an artist." The Garden Fairies are collaboration experts, having helped each other for years. We find everyone becomes better artists, even the professionals, by collaborating. Sunday, almost automatically, the GF professional artists generously helped people who are tentative. Shannon drew outlines of monkeys for one of the teenager participants. This budding artist received showers of praise from the cluster of collaborators, merrily painting, dodging the rain in the gazebo.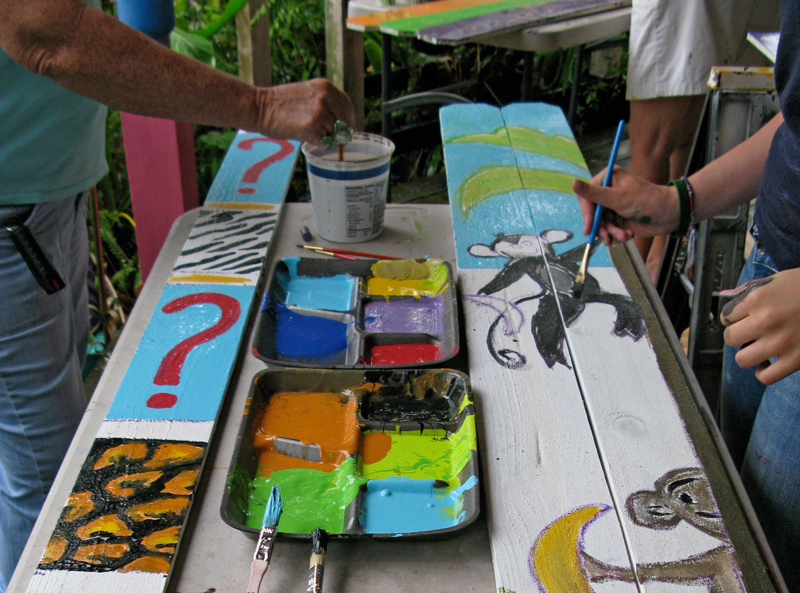 New faces at our first hands-on SHAMc community art project
Over fifty people attended the event, some of them new faces. Painting just outside the entrance to Heather's studio was a retired Colonel named Carol. Carol was painting a series of colorful sea creatures. Several of Carol's paintings have been made into prints and postcards, currently for sale at the Safety Harbor Resort and Spa. Her postcard "Harbor" series in gift shops in downtown Safety Harbor.
Picket Painting up a storm in the middle of a storm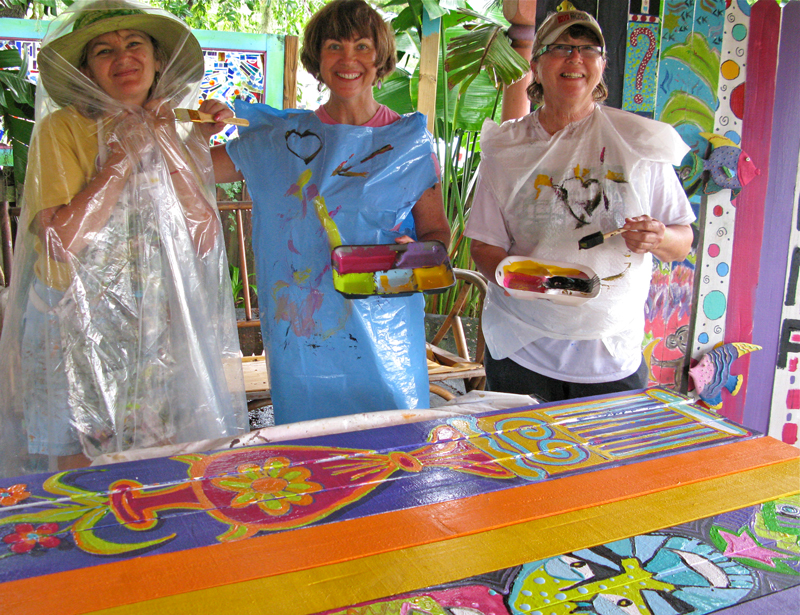 In the morning, as thunder and lightning promised rain, Heather set up tents in front of her Whimzeyland studio, "Lilikoi". Holly poured paint and Ginny helped with logistics. A steady stream of hardy people came ready to create SHAMc fence posts, even though it rained enough to fill buckets!
These Posts have Plans
The decorated posts will border the construction wall around the center. "We will border the center and hope to put up sections in the linear park on Bayshore so people can enjoy them and start thinking about it, and wonder what they are," Heather said. "Every one of the planks are by people in the community who have participated to beautify the city."
The 8th Avenue Pub hosted a fundraiser Sunday, July 3rd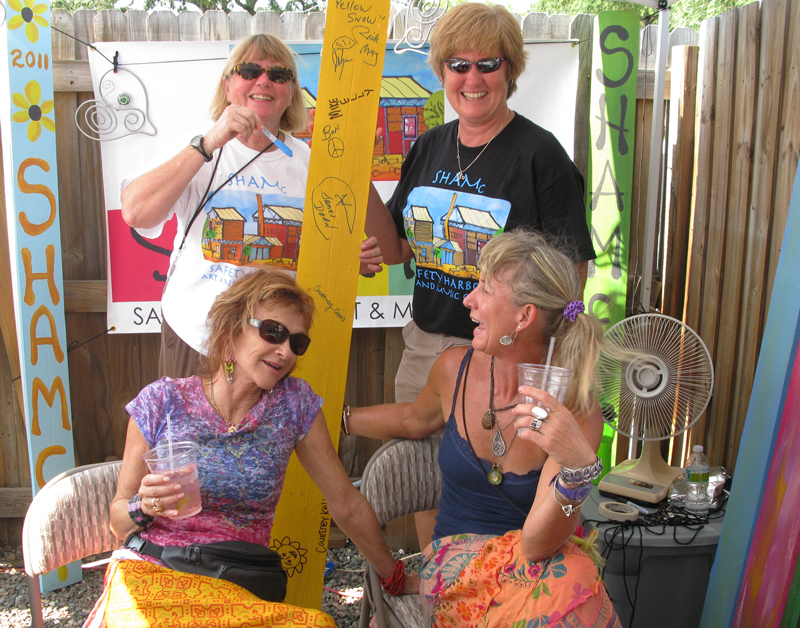 Between Bluffs Band rocked the patio at The 8th Avenue Pub  fundraiser. On the Facebook SHAMc page is a big thank you.
"We want to formally thank Mike and Joan Kelly and the crew at 8th avenue pub for their amazing support. Sunday's SHAMc fundraiser was a huge success. The band was amazing, the food delicious and the rain didn't last."
Yes, more rain. But it didn't stop us from selling; T-shirts, hearts and meeting lots of cool people.
Like this article?  Leave us a comment!
See the slideshows:
Painting the pickets Fundraiser
Artist Raphaella Vaisseau work can be seen at:  www.heartfulart.com