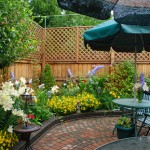 Buffalo's Garden Walk fever has spread to 17 other locales in Western New York. I give a neon-glowing-green thumbs-up to anyone involved in garden walks and tours; hosts, volunteers and organizers. I know how much work a garden walk or tour takes, having done two garden tours with The Garden Fairies.
The first time I organized a garden tour, I included my own garden. Frazzled does not even come close to describe how hard that fall garden tour was, especially when you add in a summer of hurricanes. The second time around we changed our tour to the spring to avoid dodging hurricanes. I took my garden off the tour, ignored my own weeds and put my energies into helping our garden tour hosts.
We received a comment from a reader named Donna, who is working on a garden walk. Donna commented she was disappointed with the characterization of Niagara Falls, New York in our "Shuffle off To Garden Walk Buffalo" post. Donna jogged my memory. Looking through the pictures she sent, I recalled my family visiting a grand ole' painted lady sometime in the 1970s.  That "lady" was a victorian home my parents' friends owned in Niagara Falls NY.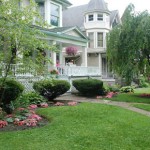 My Falls Flash Back found me delighted to see the homes in this neighborhood are well kept. Lovely landscaping and secret gardens are some of the things you will see if you go on Orchard Parkway Garden Walk.
…perhaps the most beautiful landscape in the downtown core with whispering thunder from Niagara Falls just a 5 minute walk away.
Orchard Parkway Garden Walk is a two year old Garden Walk. Donna is excited her neighborhood's garden walk is scheduled at the same time as the Garden Bloggers Buffalo 10 is happening, July 8th to the 11th. Hopefully, says Donna, some of the Garden Bloggers will be able to visit Niagara Falls, NY during their stay.
The Orchard Parkway Garden Walk website states: With a little help from more than 30 homeowners on the street, the Orchard Parkway Garden Walk began in July of 2008. Set among perhaps the most beautiful landscape in the downtown core with whispering thunder from Niagara Falls just a 5 minute walk away, there are now more than 60 gardens of different shapes and complexities all within a quarter mile walk on two city streets.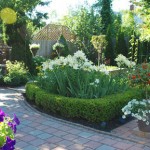 Our Walk isn't to show off what we have, but to share with our fellow city residents the potential that can be found within a few seeds and a pile of dirt. That, paired with our hope of spreading the beautification efforts, is the main reason we keep our Walk free with the help of the Orchard Parkway Block Club and the Niagara Block Club Council. We look forward to celebrating the Walk with garden voyeurs, sharing garden secrets and revealing up to the minute landscape trends.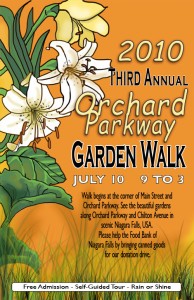 ORCHARD PARKWAY (Niagara Falls)
Saturday, July 10, 2010; 10am-3pm
Pick up site: 1302 Main St., corner of Orchard Parkway & Main; day of event; "Look for smiling gardeners at the white tent."
Web site: www.orchardparkway.com
Fee: none
And yes, there is more!
Garden Walks and Tours in Western New York The Buffalo area boasts 17 garden tours or garden walks in city neighborhoods and nearby
towns, spread over several weekends.
Open Gardens Buffalo project is modeled on the successful, long-standing tradition of Open Gardens in England.  Private gardens are graciously made available to the public on a particular day at a particular time.  Visitors are allowed to simply drop by.  Our Open Gardens are listed below by neighborhoods.  Please note the specific day and time that the garden is open. Download a spreadsheet with addresses and hours here.