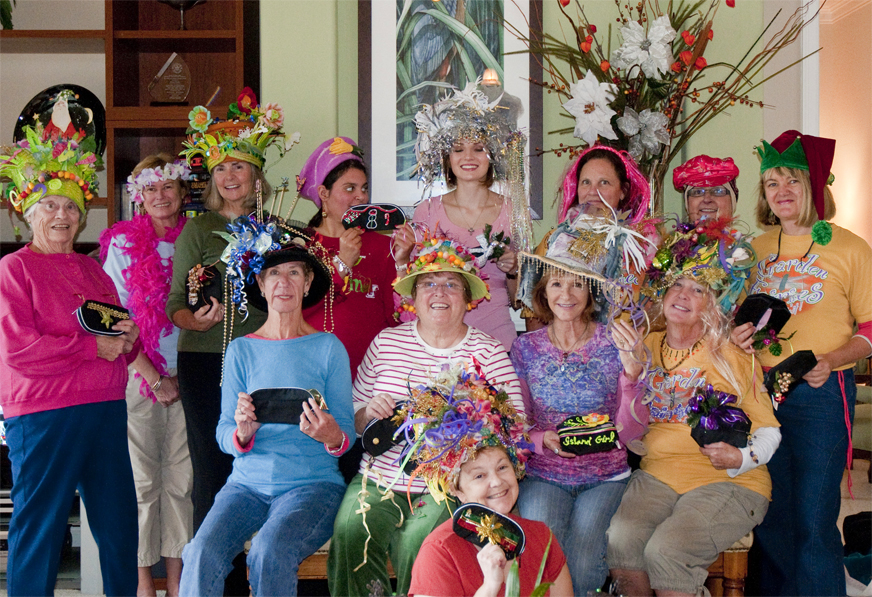 For the fifth year in a row, the Garden Fairies have made the holidays a bit nicer for the troubled adolescent girls who live at the Brookwood Home in St. Pete FL. We always come up with colorful and creative gifts for the girls as Brookwood– fitting with our credo, to beautify the world. This year we decorated 50 presents–  makeup bags and filled with an assortment of teen pleasing makeup.
Many thanks to all who participated by either helping to personalize the bags or contributing to the fund to buy the makeup. A special shout outs to:
Kathy Warnke for providing her house and a lovely brunch for the decorating session (hope you have de-glittered your house by now Kathy).
Kudos also to Victoria Peasley, senior Mary Kay sales lady for donating the makeup bags, giving us the makeup at cost and donating a portion of the makeup.
To Marilyn from Maryland for donated 50 Rosebud Salve tins from Rosebud Perfume Company
In the past we made other gifts for the girls; bracelets, necklaces, slippers and tee shirts to paint (with lessons).
Brookwood Florida is dedicated to providing troubled adolescent girls with an alternative living environment and therapeutic program encompassing education, employability skills, independent living training and counseling that will prepare them for self-sufficiency or successful family reunification.
Here is a thank you letter from the Brookwood Home:
Dear Garden Fairies,

Thank you very much for contributing to the beautiful assortment of 50 make-up bags and accompanying gifts, which Siobhan Nehin recently delivered to Brookwood for our foster teen girls.  The girls loved them!

This year marks Brookwood's 82nd year of operation.  Since 1927, our St. Petersburg agency has assisted thousands of troubled girls and young women during difficult times.  In 2008, we provided education, employability skills, independent living training and counseling to 128 abused, neglected and at-risk teen girls.  Our goal is to help them become self supporting, independent young women.

Please know that your gifts helped to make the holidays happy and memorable for the teen girls we serve.

On behalf of Brookwood, best wishes to all of you in this New Year!

Regards,

Diane Sunden

Research & Development Mgr.

Brookwood Florida, Inc.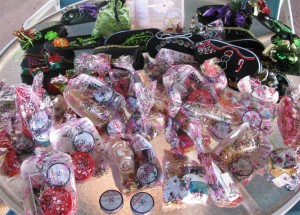 Some comments…
What wonderful afternoon- Thanks to Karen for hosting and the lovely meal. Thanks to the fairies that participated in giving back as they always do and for being patient with me – the one without the artist touch at all- You all inspire me-  The makeup bags turned out great- Victoria- thanks so much for the generous donation-  Happy Holidays to all–  Pam Zibell
I don't Know how I got so wrapped up with these Garden Fairy Gals but I hope I'm the Christmas Parade Queen this year!!  I think I should ride in the Fairy Mobile!  What do you think?  Vote for me!
—  Gaye
Another great Garden Fairy spirited event! Great picture Shannon and Siobhan. Yes, i had forgotten what good fresh Mexican food tasted like until Sunday. TOPS!!!!!!!!!
Happy Holidays to all you beautiful Garden Fairies,
xoxox Rike'