The numbers are impressive; 340 gardeners open their gardens for a weekend to 45,000 visitors, making Garden Walk Buffalo (GWB) the largest garden tour in the United States.
This year a small flock of Garden Fairies shuffled off for Buffalo to enjoy Garden Walk Buffalo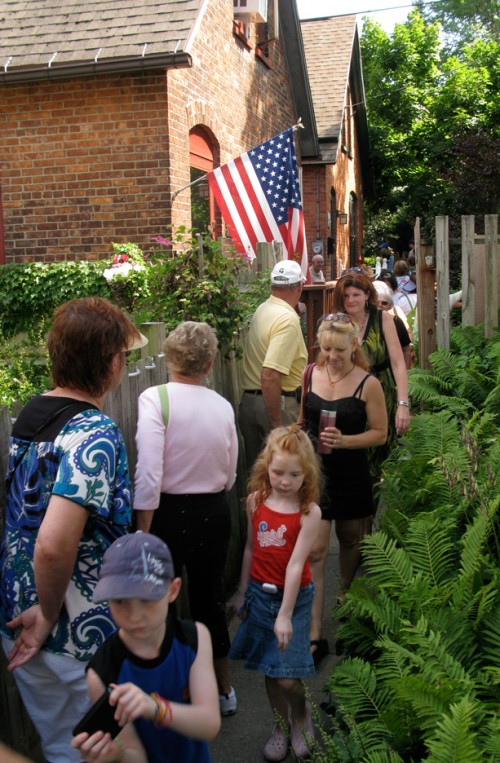 GWB is one of the most unique urban events in America. Garden Fairies Lisa, Shannon and Rike were knocked out, by not only the gardens, but diversity of architecture in the residences. Tour guide Siobhan, who hails from Buffalo, showed them what  emerges from beneath the snow in summer. In between party stops they got to see a myriad of garden types, from quaint cottages with secret gardens to grand mansions with exquisitely-appointed courtyards.
Garden Walk Buffalo is a continuum of Buffalo's great gardening heritage
On display are vestiges of Frederic Law Olmsted's inspired vision for Buffalo, bucolically-inspired parks, hubs in a series of connectors linked to grand parkways and beautifully landscaped traffic circles.
Garden Walk Buffalo started in 1995 as a FREE public tour that takes place over two days on the last weekend of July. Garden tourist can also get to see newly-introduced annuals from commercial growers at Lake Erie's waterfront park, home to the Erie Basin Marina University Test Gardens.
Garden Walk Buffalo, a preeminent Buffalo grass roots organization has not only fostered residential beatification, it also is a huge contributor to community beautification efforts, giving out GWB Beautification Grants each year.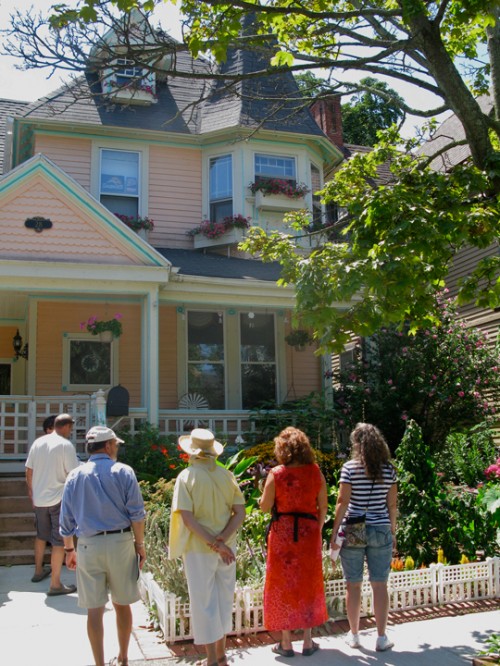 The tour highlights urban gardening of every variety, including:
Flower, vegetable, native, herb, xeriscape and organic gardens and every combination in between
Cottage gardens, water gardens, rock gardens, Asian- and English-inspired gardens and even a trial garden for seed companies
Community gardens, pocket gardens, planted traffic islands and medians and every other kind of urban landscaping
Gardens featuring espaliers, grape arbors, follies, raised beds, koi ponds and waterfalls
Multiple-level decks, pergolas, outdoor kitchens, lighting schemes, fountains, wall murals, sculpture, potting sheds, carriage houses, playgrounds, playhouses, tree houses and even one urban putting green
The Garden Fairies GWB 2010 slide show
The Garden Fairies were delighted to be part of the first annual Buffalo National Garden Festival Symposium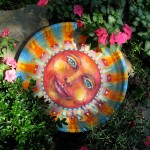 Conveniently held the day before Garden Walk Buffalo Weekend, Friday, July 22nd, at Forest Lawn Cemetery. My cousin's husband said to me, "I heard the Garden Fairies killed at the cemetery." Great line, thank you Don!
It was dull and gray outside, but our colorful presentation helped light up the compact-sized Gothic Chapel where the  symposium was held.
In Florida, I got the show loaded up on my iPad. The iPad was only weeks old, so I had yet to use it for a slideshow. Showing up in town with the latest shiny new iDevice to hook up to an unknown projector was a risky move. Being a seasoned advertising professional however, I had 2 other ways to show the slideshow "just in case" (from a CD or online). There is nothing worse than a blank screen and a full house.
Have iPad, Will Travel
True to the iPad's "Magical" billing, the presentation came off flawlessly without having to beat the projector ruthlessly with my Magic "iWand".
I LOVE the iPad— having all your photos and slideshows at your fingertips wherever you go is a fantastic communication tool.
In attendance were Fairies, friends and relatives from Buffalo, Florida, Michigan and Connecticut. My subject was "Learn to be a more creative gardener from Siobhan, Queen of the Garden Fairies – A garden transformation artist with a neon-glowing green thumb and a magic wand."

Top Ten Landscaping Mistakes
I warmed up the crowd à la David Letterman's Top Ten List  with "The Garden Fairies' Top Ten Landscaping Mistakes" including a few funny gardening photos interspersed with practical advice. Shannon and Lisa made up the Garden Fairy Band, adding "musical" punctuations to the presentation. Once the crowd had a few laughs, we showed a series of our garden transformations. Our next segment was the Garden Fairies' Tips and Secrets using C.A.T.S; Color, Artwork, Texture and Shape.
The Mother of All Murals
We ended our talk with the Garden Fairies' latest project, Mother Meres Mural soon to be installed in Tarpon Springs, FL and many questions technical questions about our projects.
I asked one of the gals from Michigan to take photos, but she got lost in the presentation and forgot to take many.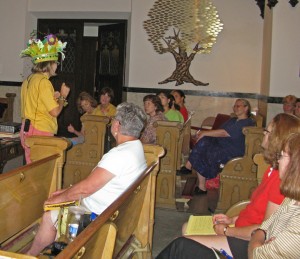 A diverse group of speakers
The next speaker was Virginia Burt  whose subject was Creating Sacred Spaces in your Garden. Virginia is a very talented landscape architect, with her own design firm Visonscapes, located in Toronto Canada. Virginia has been creating gardens of sanctuary and healing gardens for residential, not-for-profit, and public clients for over twenty years. Virginia's talk incorporated the techniques she employs to engage clients in the design process in a meaningful way. Both the spirit of the client and the spirit of the Earth are reflected in every one of her projects.
Richard Benfield, a professor at Central Connecticut College who is an expert on garden tourism spoke about The Great Botanic Gardens of the World. He is currently finishing a book about Garden Tourism.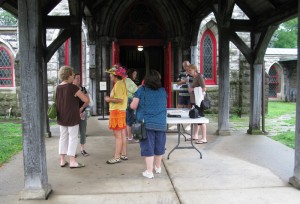 Sandy Starks was the last speaker, who talked about The Women and Gardens of Forest Lawn. Sandy organized the Symposium and also works at Forest Lawn, running interpretive programming.
Art is everywhere you look in the cemetery
There are thousands of private memorials, including designs by famous architects like Richard Upjohn and Stanford White, as well as notable sculptures created by great artists like Nicola Cantalamessa-Papotti, Franklin Torrey, Augustus Saint Gaudens, and Harriet Frishmuth.
10,000 trees representing 200 different species and varieties
When Forest Lawn was created it was advertised as "one of the most lovely resting places of the dead in the country." There are more than 10,000 trees in Forest Lawn, representing 200 different species and varieties and making the cemetery an important arboretum. The cemetery has serpentined shaped roads, speckled with spectacular flora and an array of impressive monuments to loved ones.
Fairies flew off to the Falls
We were off to Niagara Falls after Virginia's talk, but I felt I was leaving too soon. The grandeur of the place is heightening in a most romantic of setting dotted with shady groves, green valleys and sloping knolls. A perfect place for Garden Fairies to explore, but way too early to rest.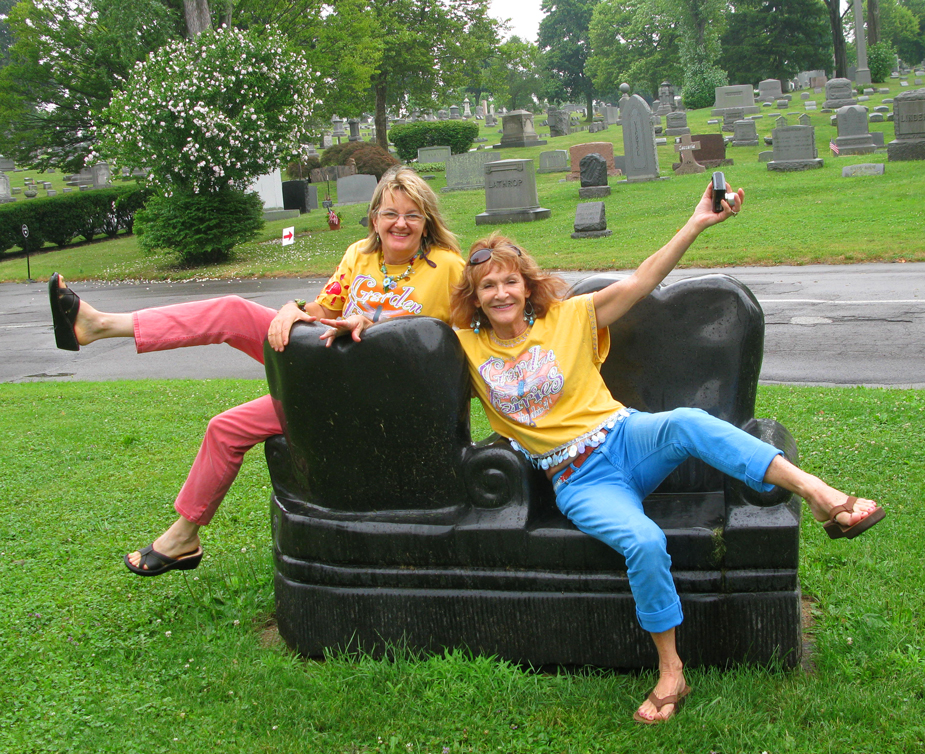 Many thanks to Sandra Starks, Sally Cunningham and Jim Charlier for inviting the Garden Fairies to be part of Buffalo National Garden Festival Symposium 2010. We hope to come back next year!
To learn more about Forest Lawn
Big storm does massive damage
Forest Lawn recovering from the October Surprise Storm In October of 2006, two feet of heavy wet snow fell in Buffalo for nearly 16 hours. Combined with strong winds and tress in full foliage, this storm caused an unprecedented natural disaster.